What comes to mind when you think of phonics practice? Although it may sound boring, the truth is that phonics instruction can be a lot of fun! Basically, phonics is the relationship between letters and their sounds. If you have an emerging reader in your home, now is the time to begin phonics practice. Red Apple Reading has scoured the internet and found several phonics activities that are sure to be a hit in your home.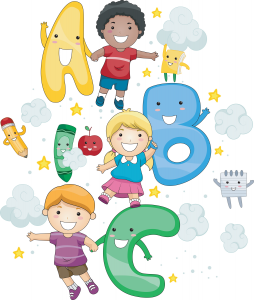 Water Balloon Phonics
This fun phonics activity is perfect for a hot, summer day and it couldn't be easier! Simply fill several water balloons and label them with different word endings. Your kiddo will form words by matching the water balloon with a letter taped to an outside surface and then throw the balloon against that letter. Visit Mess for Less for detailed instructions and pics of the final product.
Noisy Letter Jump
If your child learns best when in motion, you'll want to check out this activity from The Imagination Tree. All you need to create this game is some sidewalk chalk and outdoor space. After writing several letters on the ground, have your kiddo jump from letter to letter, saying each letter's sound upon landing. Parents can create some variety in the game by making a letter sound and having the child jump to the letter that corresponds to the sound.
Frog Hop Blending Words
If you're looking for an entertaining way to teach your little one to blend words, check out this activity from Fantastic Fun and Learning. This smart mama created lily pads with the –og word ending along with lily pads with individual letters. Her child created words and then blended them while hopping her toy frog across the stream. Pretty cool! Click the link above to learn more.
Dr. Seuss Books/Poems
If you have small children in your home, chances are good you have several Dr. Seuss books on the bookshelf. Books such as Hop on Pop, Green Eggs and Ham, and The Cat in the Hat are all great introductions to word families. Read these often with your little one so she can become familiar with words that have the same ending sounds. As you read ask questions such as, "What other words rhyme with ham?"
Phonics Cups
This literacy game is courtesy of The Imagination Tree. You will need small paper cups with different phonemes and digraphs written on the bottom of each. Using a piece of cardboard, trace the cup tops and label each circle to form a word. Kids then match the cups with the cardboard circles to form a word. See how the finished product looks by clicking the above link.
Transformer h Song
It's amazing how a simple song can aid the learning process! The Electric Company created a fun tune about ch, sh, and th words and it's sung by none other than Ne-Yo! If your child is learning diagraphs, you'll want to share this video with them.
Snack Time Phonics
Phonics practice doesn't have to be complicated or time consuming. In fact, all this activity requires is cereal and paper. If you are practicing writing words with the /oo/ phoneme, let your little one use a box of Cheerios or Apple Jacks to replace the double "o". Your kids won't mind cleaning this activity up since it means eating their o's! Visit Miss Giraffe's Class for this and other OO activities.
I –Spy Diagraph Hunt
This downloadable freebie from Sparkle Box will have your kids on the hunt for digraphs! Arm your hunters with a pencil and send them in search of words containing the listed digraphs on the sheet.
Train Track Word Building
If your little one is a train enthusiast, this activity is for him! What Can We Do with Paper and Glue suggests labeling individual pieces of toy train track with different letters in order to form words when connected. Your kiddo blends the word as he runs his train along the track. Click the link above for details!
Red Apple Reading
If you haven't already checked out our online reading program, there's no time like the present! Red Apple Reading teaches phonics and phonemic awareness along with sight words, vocabulary, fluency, and reading comprehension. Check out some of these program samples. This is serious learning that is seriously fun!
There's no need to feel overwhelmed when practicing phonics with your child. With a few fun tools up your sleeve, you can help your kiddo master phonics in no time! Or leave it to the professionals and sign up for a Red Apple Reading membership. Want more great phonics activities? Visit our Phonics Fun Pinterest Board today.