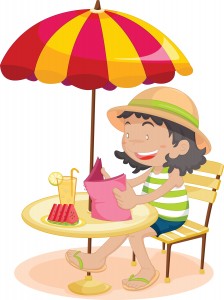 For most of us summer break is well under way, and many of us are beginning to realize that our child's reading routine is slipping away as quickly as the summer season. Parents know it takes some effort to avoid the summer reading slump. Fortunately, Red Apple Reading has compiled seven, super, summer reading resources to help parents fight the reading slide. Check it out!
Scholastic Book
You may not realize that Scholastic offers more than just book orders (I still love to peruse those fliers!). The Scholastic website reveals a plethora of resources (book recommendations, activities, games, printables) for parents and children alike. Visit Scholastic today and find out what you've been missing!
Local Public Library
If you have children and aren't visiting your local public library during the summer, you're missing out! Public libraries are famous for their summer reading programs. This year the CSLP summer reading program's theme is, A Universe of Stories. Whether you choose to participate in the program or not, swing by the library this week and pick up some fresh books for the kids to enjoy.
Summer Reading Challenge
Does your kid enjoy a good contest? If so, you'll want to get this freebie from Teachers Pay Teachers. As they check off each box (read a recipe, read to a grandparent, read a biography) children get closer to completing this summer reading challenge. Visit A Teachable Teacher to download.
Books Read Aloud for Children
Parents with children who read picture books will love this YouTube channel. Books Read Aloud for Children allows kids to listen to someone read as well as see the pages of the book as it is being read. See what titles are available today.
Reading Passport
I love this idea from Lit Mama! She has created a reading passport book (complete with stamps) for children. Whether or not your family has a summer trip planned, your kiddos can travel the world through reading! You will want to print out this freebie today!
1,000 Minutes of Reading
What does a thousand minutes of reading look like? Just a little over 16.5 hours! But broken up into 20 or 30 minute intervals, this goal is totally attainable. Challenge your kiddo to read for 1,000 minutes this summer. They will feel super accomplished and you will feel relieved they didn't spend the entire summer in front of the television. Make your own chart to track progress, or download this one created by Motivating Minds at Teachers Pay Teachers.
Red Apple Reading
It's important to keep reading skills sharp over the summer. Red Apple Reading's online program teaches phonics and phonemic awareness along with sight words, vocabulary, fluency, and reading comprehension. This is serious learning that is seriously fun!
Don't let reading become a point of contention between you and your child -use these fun activities to motivate! Before you know it, she will be diving into a good book. Happy summer reading!