Do your family meals seem to be missing something? Is your call to the kitchen table met with sighs and eye rolls? Why not add a new ingredient to spice things up? Nothing infuses new life into dinner time like a good book. Red Apple Reading has some fun book theme ideas for meals to get you started.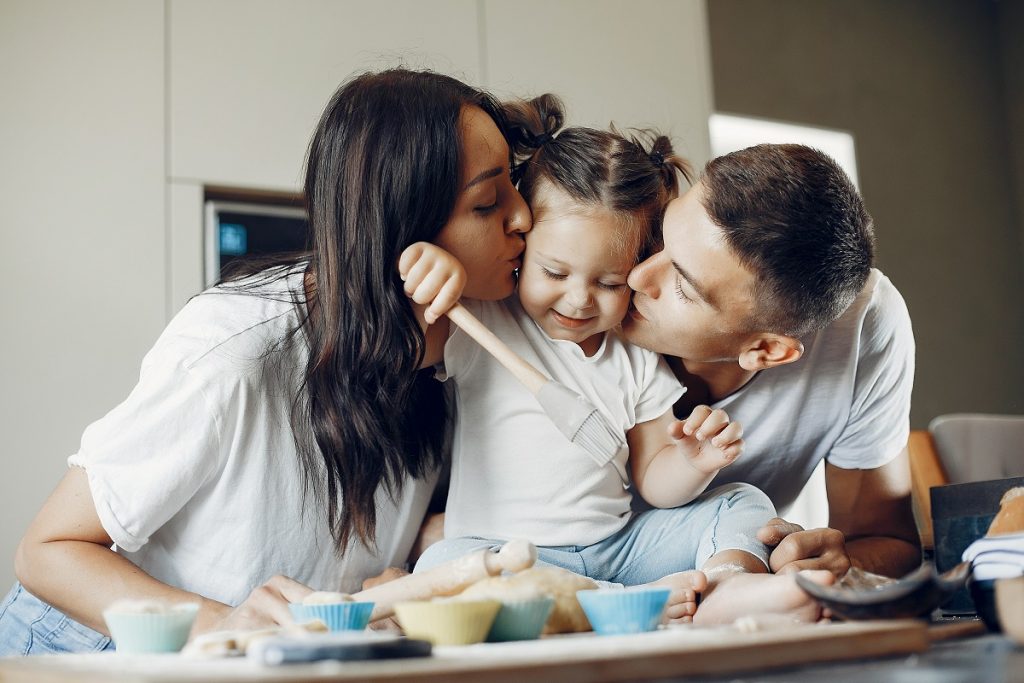 Breakfast
If You Give a Pig a Pancake (Laura Numeroff)
This book has been eliciting giggles from kids for over 20 years. If you want your little ones to begin the day with smiles on their faces, you can't beat this funny tale of a peculiar pig!
Recipe: We all have good intentions, but getting out of the door in a timely manner every morning can be challenging! So, we were super excited to find this great on-the-go pancake recipe from Super Healthy Kids. What we especially like about this recipe is the no mess factor – with the filling stuffed inside the pancake, there's no need for sticky syrup. And we know that if you give your kid some syrup, "she'll probably get all sticky, so she'll want to take a bath" and you sure don't have time for that! While you're making breakfast take a few minutes to whip up this easy strawberry banana smoothie from Blender Balance. With only three ingredients this breakfast beverage is extra easy to make. Or you can even flip your daily mealtime and make breakfast for dinner!
Fall
The Apple Pie that Papa Baked (Lauren Thompson)
In this lovely story illustrated with folk-art style pictures, a little girl's father bakes an apple pie. Readers discover the process it takes to produce this scrumptious treat (down to the rain that waters the apple tree!) as well as the sweet bond between a father and daughter. Your family will love reading this charming book together!
Recipe: This easy One Pan Chicken Apple Sausage Pasta from Inspired By Charm is sure to be a crowd pleaser. This simple yet delicious pasta made with lots of yummy ingredients (including a granny smith apple) is the ideal dish for a chilly fall night! Of course you can't have a book about apple pie without indulging in this baked treat yourself! The Blond Cook has a recipe for Apple Pie Bites that is easy enough for the kiddos to put together – and yummy enough for the whole family to enjoy! These miniature pies are the perfect end to a fun filled family evening!
Thanksgiving
A Turkey for Thanksgiving (Eve Bunting)
Mrs. Moose has always wanted a real turkey for Thanksgiving and Mr. Moose is determined that she will have one. Fortunately, the nervous turkey in question discovers that Mrs. Moose doesn't want a turkey on the table, but at the table!
Recipe: Anyone who has spent Thanksgiving morning toiling in the kitchen knows how discouraging it can be to have a child turn up his nose at your culinary creations. This year why not add a couple of kid-friendly sides to your menu? Put a fun spin on fruit with these Fruit Cones from Kirbie's Cravings. Kids will get a kick out of these mini cornucopias. Need to occupy the children while you finish cooking dinner? This adorable Turkey Veggie Tray from Eating Richly is not only good to eat but also fun to assemble! Keep the kiddos busy beforehand by letting them construct this side dish!
Christmas
Gingerbread Pirates (Kristin Kladstrup)
This is a charming tale about a band of pirate cookies. Their brave leader, Captain Cookie, is determined to save his fellow gingerbread bandits from the clutches of Santa Clause. Children are sure to enjoy this cute Christmas tale!
Recipe: After reading this story your kiddos are probably going to start asking for some tasty gingerbread. Check out this recipe for Soft and Chewy Ginger Cookies from Six Sisters Stuff. Whether you choose to eat them as a simple cookie or in pirate form, is up to you! Another classic Christmas treat is the delicious sugar cookie! If you're looking for a cookie that is both yummy and keeps its cookie cutter shape, then check out this sugar cookie recipe from Two Sisters. We particularly like their tip for rolling out the dough with powdered sugar instead of flour!
Camping
A Camping Spree with Mr. Magee (Chris Van Dusen)
Parents and children alike will enjoy this eventful camping trip with Mr. Magee and his faithful dog, Dee. Your family will not only get a kick out of this story, but they will also love Van Dusen's stunning illustrations.
Recipe: Whether your family enjoys spending a few nights in the great outdoors or not, you can all enjoy a "camp-style" meal and we think this Franks and Beans recipe fits the bill. You can also easily add a side salad if you wish to include something green! Thanks South Your Mouth for this delicious family-friendly recipe! Finally, no camping trip (real or book inspired) is complete without s'mores. This oven version of s'mores from Princess Pinky Girl can't be beat. These are simple enough for the kiddos to help put together and mom or dad can oversee oven duty.
If you think reading aloud to your children is strictly a bedtime activity, think again! We can't think of a better time to pull out a book than during family meal time when the whole gang is gathered around the table. Take advantage of this opportunity and begin making some meal time memories today!