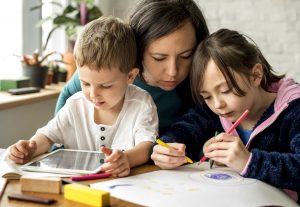 With schools around the country closed due to the COVID-19 pandemic, millions of families have been flung into a new world of remote lessons and at-home learning. Parents, students, and teachers are learning how best to continue to support children's education in these circumstances. But as a parent, what can you do to help your kids learn, support their well-being, and build independent learning strategies? Study.com has some great resources on their website to share.
Learning at Home During a School Closure
Study.com shares considerations needed including the curriculum, creating a learning environment at home, and maintaining a schedule.
Helping Your Child Learn Independently
Study.com provides a number of independent learning strategies to help you tackle distance learning, and tips for some educational activities if your school isn't providing formal options.
Homeschooling Children of Different Ages
It's not easy to oversee lessons for different children in different grades! Study.com has some great suggestions for those of you juggling with multiple children.
Study.com has a host of support and articles that parents might find useful during this time:
Online Homeschool for 3rd to 12th Grade
We hope you find some helpful resources and tips to help homeschool your kiddos this spring and summer! And don't forget, if you need early reading lessons and practice for young children ages 4 to 8, check out Red Apple Reading – it's serious learning that's seriously fun!