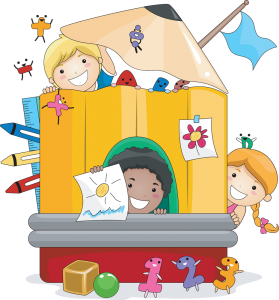 As the big day approaches, I'm feeling more and more nervous about my little one going to Kindergarten in the fall. I must be doing a fairly good job of hiding it though, because unlike me, Miss Katie is counting down the days. She can't wait to meet her teacher, make new friends, and "play with the toys!" In my heart, I know she'll be fine, but my head keeps reminding me of all the things that could go wrong.
You've probably been there too—we all want our kids to thrive, no matter where they are in life. Whether your little one is entering Kindergarten this year or next, knowing what will be expected of her, and also knowing what you can expect as a parent can help ease your fears.
What Teachers Expect Your Child to Know
If you find yourself fretting over whether your child is ready for Kindergarten, don't give in to these concerns. More than likely, you are worrying over nothing. Why? Because Kindergarten teachers expect their students to come to school on the first day with a wide range of skills. Some will be able to count to 20; some won't get past 10. Those who attended preschool may know all of their letter sounds while other children may still be working on the alphabet song. This is completely normal, and since all beginning Kindergarten students are different, you can rest assured that all of these skills (and more) will be covered in depth.
If you need something to do with your hands so that you won't keep biting your nails from now until fall, however, working with your child on basic skills certainly won't hurt. If your child begins Kindergarten with a good grasp of colors, numbers, letters, and shapes, then she'll be ahead of the game! Looking for practice sheets and activities? Check out these "getting ready for Kindergarten" handouts. Another thing your child will need to master in Kindergarten is how to write her full name, so you can begin practicing this skill together as well.
What You Can Expect – Lots of Fun!
Despite increasingly rigorous academic standards across the board, Kindergarten is still a time when teachers try to instill a lifelong love of learning in their students. How do they do this? By making learning fun, of course! Story-time, puppet shows, finger-painting, puzzles—these are all staples of any Kindergarten curriculum. Your child will be having so much fun that he may not even realize how much he's learning.
Reading, Writing, and Arithmetic
Although subjects like Social Studies and Science are touched on in Kindergarten (so lightly you may not even notice), the central academic focus this year will be on the three "Rs"—reading, writing, and arithmetic. You can expect that your child will spend lots of time practicing phonetics, writing letters and numbers, recalling story elements, and counting objects. For a more comprehensive explanation of what your child will likely be learning during her first year of school, check out the Common Core State Standards for Mathematics and English Language Arts.
A Little Frustration
Learning to read and write are transformational events in your child's life, and they don't come about without a great deal of practice and hard work. No matter how bright your child is or how much fun he's having in Kindergarten, he's likely to experience at least a little frustration at some point during the year. Preparing yourself for this hiccup ahead of time will keep you from panicking or thinking that your child is falling behind, when in reality what he's experiencing is completely normal. If and when you do notice some frustration on your child's part, let him know that everyone struggles to acquire new skills—especially such complex ones like reading and writing. Then, encourage him, let him take a break if necessary, and assure them that you're here to help whenever he needs it.
Starting Kindergarten is a huge step—for both kids and parents alike.
As you begin this new journey together, take a deep breath, do what you can to prepare, and then trust that it will be a great year for the both of you!