Where did the time go? If you're reading this post, then you're probably in the same situation I am. My little girl is going to Kindergarten in exactly one month from today. I blinked and the little baby I held and rocked and examined from head to toe (just to make sure everything was there!) is about to leave the nest for the first time and fly off to Kindergarten by herself! How is this possible? What can I do to prepare her? Perhaps more urgently, what can I do to prepare myself? I've done my homework on the matter, and apparently, this is what you (and I) should do in order to make the transition to Kindergarten as painless enjoyable as possible: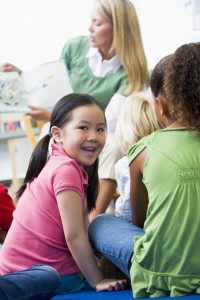 If your child is nervous about starting Kindergarten, then reading about other children (or characters) who are going through the same thing can help ease her fears. By reading about it, she'll get to see the experience through someone else's eyes (which is a lot safer, from her perspective). The more she learns about what to expect on the first day of school, the more comfortable she will feel. Don't know where to start? Check out this list of books written with would-be Kindergarteners in mind.
Although books can provide your child with a general idea of what Kindergarten will be like, you'll need to fill in the gaps with details that are specific to your family. Talk about what time your child will need to get up, what his morning routine will be like, what he can expect at school, and when you will pick him up in the afternoon. Giving your child as much information as possible beforehand will help her feel more in control and less apprehensive.
You're scared out of your mind at the thought of sending your little one off to a strange place in the care of a strange person, right? So am I! But, no matter how anxious you are, don't let your kiddo know. It's hard, I know, but if you're nervous, your little one will know it, and that will only add to her fears. Be strong—if not for yourself, then for your child!
You might be surprised to know that I've sent two other children to Kindergarten before Katie. This isn't my first rodeo! Each time, I've felt the same butterflies, and each time, things have worked out just fine. My two older children loved Kindergarten—they adored their teachers, had lots of fun, and made many new friends. From these experiences, I can tell you (and myself), it will be okay. The first day, week, or month might be hard, but after that, you'll have the pleasure of picking up your child from school and watching her beam in the rearview mirror as she gives you a minute-by-minute account of her day filled with fun activities that only you know are educational.
Anybody else experiencing pre-Kindergarten jitters? How are you dealing? Let us know in the comments section below!