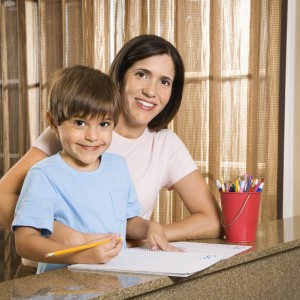 This is the question I have been asking myself for the last few months. Before this school year started, I wrote this post about the growing number of families who are opting for educating their children at home rather than sending them off to public school. Ironically, I may soon be joining their ranks. Since I believe that homeschooling is good for some, but not all children, I'm not considering homeschooling all of my school-aged kids, just one.
So what sparked this mid-year urge to bring my child home? Good question. Really, it has been a compilation of things, but the most disturbing has been my son's complete disdain for school. This is his first year in middle school, and it has not gone well. We have had many unhappy mornings and even some tears at night at the mere thought of going to school the next day. As many of you who have been there know, it can be heart-wrenching to see your child suffering and genuinely not know what to do. That's the situation I'm in; I truly don't know what to do.
If I could pinpoint the exact problem, then perhaps I would be in a better position to find the solution, but even that has proven difficult. Billy is an extremely bright, gifted student and up until this year, he hasn't complained much about school. He is one of the smallest kids in his class, but he has friends and is not being teased or bullied. When I ask him why he doesn't want to go to school, he says, rather matter-of-factly, that he'd simply rather be home with his family than spend the majority of the day away. Talk about pulling on heart strings!
My gut feeling is that Billy is bored. I've written before about how he's complained that the teachers spend a lot of time remediating students on subjects they've already learned. Ironically though, he's made some less than desirable grades this year, so I don't know what to make of it really. It's all so confusing!
This year has been a transition in more ways than one. Last year, Billy was in a pilot program for the 21st century classroom and had his very own laptop for the entire year, so I think he's been mourning the loss of this technology as well.
We are nowhere near making a decision, and I plan to do some in-depth research on the topic including technological resources for homeschooling so that I can make as educated a choice as possible. I'll be sure to share the results of my research just in case any of you are facing the same issue. My main concern is ensuring that I have the time and resources to provide him with a quality, comprehensive education at home.
If you've been through something similar and have any advice, I'm certainly open to it. This has really disrupted our family life, and I just want to see my little boy smiling again. Thanks in advance!