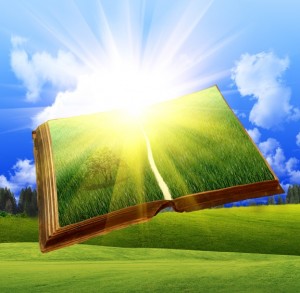 All of us at Red Apple Reading hope you and your family are having an amazing summer. There are so many wonderful things about summer vacation, and one of the best is: more time to read! In honor of this magnificent time of year, we would like to recommend some summer themed books for your kiddos. So, let's explore some summer sensations!
1. Summer Time in the Big Woods (Laura Ingalls Wilder) – Adapted from Laura Ingalls Wilder's original story books, this picture book is a great read for 4 – 8 year olds. Your little one will get a glimpse into how young Laura spent her summers!
2. The Berenstain Bears Go to Camp (Stan and Jan Berenstain) – This is geared to the 3 – 7 year old crowd. Brother and Sister Bear are nervous about going to camp, but in the end discover it is a lot of fun.
3. Come On, Rain! (Karen Hesse) Join Tessie as she anticipates escaping the sweltering heat in a summer shower. After reading this story, your kiddo will want to dance in the rain! Recommended for ages 4-8.
4. Mister Seahorse (Eric Carle) – This beautiful picture book is for 2 – 6 year olds. In it the reader learns about undersea daddies! This aquatic adventure with its "hide and seek" pictures is sure to delight your child.
5. The Night Before Summer Vacation (Natasha Wing) – Everyone knows what it's like to forget something important when packing for vacation. Find out what the family in this funny story forgets as they get ready for their summer trip! Recommended for ages 3-8 years.
6. A Long Way From Chicago (Richard Peck) – I had the pleasure of discovering author Richard Peck a few years ago. The target audience for this book is middle graders, but I highly recommend reading it with your youngster. You will laugh aloud as you read about Mary Alice's and Joey's adventures as they spend their summers with their quirky grandmother.
7. Judy Moody and the NOT Bummer Summer (Megan McDonald) – This is the 10th book in the popular Judy Moody series. In this installment, Judy is left with her Aunt Opal for the summer and discovers that her vacation is going to be better than she originally anticipated. Your 6-9 year old will enjoy reading about Judy's summer adventure.
8. Green (Laura Vaccaro Seeger) – Younger kids will enjoy this stunningly beautiful homage to the color green. Your kiddo will experience the different shades of green found throughout creation. Summer is the perfect time to consider this wonderful color in nature. For ages 2-6 years.
9. Summer Days and Nights (Wong Herbert Yee) – Another fun summer read for 2-6 year olds is Summer Days and Nights. In this picture book, young readers will experience the simple joys of the summer season through the eyes of a little girl.
10. Dog Days (Diary of a Wimpy Kid) (Jeff Kinney) – Middle readers will find out how Kinney's popular character Greg Heffley spends his summer vacation. Kids should prepare for side-splitting laughter as they read about Greg and his crazy family's antics!
It can be fun to experience the summer season through another character's eyes. These books will help your little one to do just that. So pour your kiddo a glass of cold lemonade and settle him in with a good summer read – it's a great way to spend a summer day!