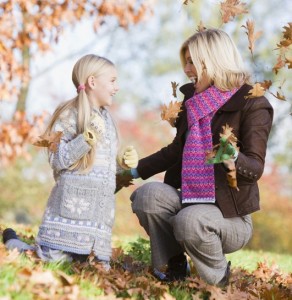 It's that time of year again – the leaves are turning and beginning to float to the ground, the weather is getting chillier, and the holiday season is just around the corner. Fall is fully here! Instead of jumping straight into holiday mode, why not enjoy the season and wait until December to panic? Red Apple Reading has some fun fall activity recommendations that will help you relax with your family and enjoy the season while you still can. Make this fall season the best you and your family has ever experienced!
Go on a Nature Walk – Autumn is the perfect season to explore the great outdoors! The weather has cooled off and the leaves are changing colors. Gather your little ones together and head to your local walking trail or arboretum. Make sure to take a bucket with you for all the cool stuff you collect along the way.
Enjoy a Campfire – This is a personal favorite in my family. When the weather turns cool, we like to spend a weekend night roasting marshmallows over a fire in the backyard. Sometimes we even give the kids glow sticks to play with in the dark. A word of caution – make sure there is plenty of adult supervision, a water hose on the ready, and the weather has not been too dry!
Create a Meal – OK, maybe when you think of family activities, cooking together might not be the first idea to pop into your head; but why not? After all, if your family is like mine, we spend a lot of time hanging out in the kitchen anyway. Since you're already there, how about creating something delicious together? The fall season is the perfect time to get out the soup and stew recipes and enjoy a warm meal together!
Visit a Farm– There are a lot of great fruits and vegetables in season this time of year. Do a little investigating and find out if you have a local apple orchard, pumpkin patch, or farm that has seasonal vegetables. Your kiddos will enjoy seeing where these yummy foods come from and how they are grown. If you don't have access to a local farm, find a farmers market in your area to visit!
Make a Scarecrow – Even if you don't have a garden, building a scarecrow is a fun fall project for the whole family. Visit HGTV Gardens for great step-by-step scarecrow construction instructions! Afterwards, display your finished product on the porch for everyone to admire.
Have a Block Party – Autumn is a great time of year to gather the neighbors together for a neighborhood block party. The children can enjoy outdoor activities such as bobbing for apples and carnival style games while the adults visit and eat hamburgers and hot dogs.
Read a Book – Any time of year is perfect for reading! Fall is an especially good season to enjoy reading outdoors. So bring a basket of books, pitch a blanket in your yard or local park, and spend an hour reading to your little ones.
We would love to know how you enjoy spending a fall day with the family. Leave a comment below sharing your favorite autumn activities.