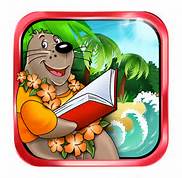 Don't you agree that a new year is the perfect time to incorporate new things into our lives? A fresh start with fresh ideas makes for an exciting 2014! In the spirit of new beginnings, Red Apple Reading is proud to announce the launch of several new apps – including Red Apple Readers – Island Adventures and Island Crossword Puzzle Fun – available in the iTunes app store. I was able to play around with these apps over the holidays and was very impressed. I would like to share what I appreciated most about Island Adventures and Island Crossword Puzzle Fun, and hopefully inspire you to download these great reading apps for your little one!
Interesting Stories – The Red Apple Reader stories are fun and interesting. Young children will enjoy tales with characters such as Pete Pirate and Flora Flamingo.
Great Illustrations – Fun illustrations make Red Apple Readers not only exciting to read but also enjoyable to look at as well. The background of each Island Crossword Puzzle is bright and colorful without being distracting.
Listen/Read Yourself Option – I loved the option for children to either read the story themselves or be read to. After a few listens, reluctant readers will be ready to give a solo read a try!
Word Click Capability – Even if your little one cannot read all the words herself at first, don't worry! Just click on whatever word your kiddo is having trouble with and the narrator will read the word for her!
Engaging Narration – The narration in this app is really well done. The stories are easy to listen to and the character voices are interesting. Red Apple Readers is a pleasure to read along with.
Gradual Increase in Complexity – Each story in Red Apple Readers and each crossword is slightly more complex than the previous one. Your child will not only enjoy the stories and puzzles, but will be challenged as well!
Affordable – The first story in Red Apple Readers is free and each additional two are .99 cents each. Island Crossword Puzzle Fun comes with 10 free puzzles and costs .99 to purchase 30 additional puzzles. Both apps are very affordable for your family!
Easy to Use – These apps are very intuitive and kid friendly. Simply click on the section of the crossword puzzle you wish to complete and a clue pops up in the left hand corner. Find the correct answer in the word bank and click on it – easy!
Meaningful Content – The stories in Red Apple Readers are not only fun but are age appropriate and allow young readers to hone their reading skills. Each crossword puzzle pinpoints a specific phonics skill (suffixes, long vowels, diagraphs, etc.) thus, making these apps educational as well as entertaining!
We hope you will visit the iTunes store today and check out these great apps. After downloading the free story and crosswords puzzles, we think you'll be hooked! Click here for a complete listing of Red Apple Reading apps available.