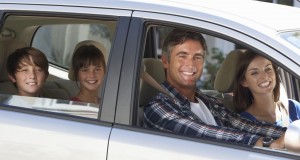 Are you planning a family trip this summer that involves long hours in the car? Everyone loves a vacation, but the actual road trip itself can be tedious – especially for families with small children! Do you wish you had a dollar for every time a child asks, "How much longer?" Is it possible for a Mom and Dad to arrive at their destination with their sanity intact? If you're looking for ways to keep your children entertained on your approaching car trip, then look no further! Red Apple Reading has some tips for not only keeping your kiddo entertained but also intellectually stimulated during your upcoming road trip!
License Plate Game – This oldie but goodie never fails to please! Have children search for license plates from as many states as possible while on the road. If you want to add a little extra geography boost, print out maps and let kids color in the states as they find them!
Audio Books – Before leaving for your trip borrow some audio books to listen to as you travel. Many children's books are quite compelling and are fun for adults to listen to as well! One of my favorite children's authors is Andrew Clements. See what you can find at your local public library!
Math Fact Fun – If your little one is learning her multiplication tables, then a long road trip provides the perfect opportunity to practice. Take advantage of the extra time together and quiz your kiddo on her math facts as you travel. Perhaps you could even reward progress with a milkshake or other treat!
Road Reading – A car trip is filled with opportunities to read along the way! If you have beginning readers challenge them to spot words on street signs, billboards, and buildings. The kids will enjoy shouting out their finds and you will enjoy the progress they make with their reading!
Keep Little Fingers Busy – We all remember how tempting it is to poke, pinch, and prod siblings on a road trip. Avoid hearing the backseat mantra, "He's touching me!" by keeping those little fingers busy! Before leaving on your trip find some shoelaces and cut up several straws. Little ones can thread the straw pieces onto the shoestring, take them off, and do it again. This simple activity will keep the kiddos out of trouble and help develop crucial fine motor skills! Check this out on Knoala!
Memory/Alphabet Game – Help sharpen memory and letter skills with this fun road trip game. Someone in the car begins the game by saying, "I'm going on a road trip and I'm bringing________". The first person fills in the blank with something that starts with the letter A. The next person repeats the first person's item, and adds something that begins with a B. The game goes on until your list goes all the way to Z!
We hope these suggestions make your next car trip a little less stressful! We would love to hear what your family does to pass the time while traveling. Leave a comment below with your best ideas for keeping kids entertained on the road!