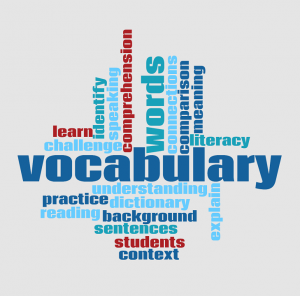 Vocabulary is one of the 5 pillars of reading instruction — along with phonemic awareness, phonics, fluency and comprehension — that every child needs in order to become a proficient reader. Today we look at the crucial role vocabulary development plays in reading.
A rich vocabulary will serve your child well as she navigates through life. We often don't realize the importance of a robust vocabulary. Although vocabulary acquisition may not be in the forefront of our minds, we notice the effects in our children when it is lagging or absent. If our children don't understand the words that they hear, speak, read and write, they will become ineffective communicators and struggle with many daily tasks.
If you want to help your kids develop a rich vocabulary, check out these helpful tips from our team at Red Apple Reading!
Read to them!
The best ideas are often the simplest. The most important thing you can do to help your child's vocabulary development is to read! When we read to our children, we are exposing them to words they may not otherwise hear. When I read to my 6-year-old, he is taking in new words and ideas and very often asking me questions about what he's hearing! So when it's time to pick up a book for the nightly bedtime story, remember that you are not only creating lasting memories, you are also developing vocabulary!
Display words on a word wall.
Include sight words for extra practice, and add new and more complex vocabulary as your child learns new words. Check out these word lists from Flocabulary for grades K-8.
Go on a word hunt.
Pick a favorite book and go through it page by page, having your child find specific words within the text. You can also do this in the car using billboards and business signs!
Point out familiar words in everyday life.
Very often opportunities for developing vocabulary happen organically and in the moment. Look through restaurant menus, draw attention to street signs, and show your child familiar words in your own reading materials.
Practice with flash cards.
Flip through words with your child, changing the order each time, or use the cards in games, having your child match words or pick words out from a pile.
Play!
Learning should be fun! When we share stories, tell jokes and play word games with our kiddos, this naturally aids vocabulary acquisition.  Check out these ideas from Hands On As We Grow for increasing your toddler's vocabulary through play.
By implementing these simple strategies, parents will go a long way in helping their children develop a rich vocabulary that will serve them well in their daily life.
Need more ideas for enriching your child's vocabulary? Check out the wealth of activities from the National Capital Language Resource Center.
Have any other ideas to share about building vocabulary? Please leave comments!