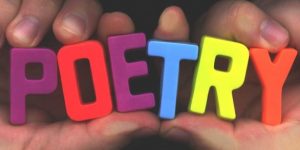 Join us as we celebrate poets and their amazing work for Poet's Day (August 21st)! This is also a good time to reflect on the benefits of poetry for children, some children's poets we can introduce them to, and explore ways we can encourage them to create their own poetry!
What's the Big Deal?
When we introduce our kids to books and materials that focus on rhyme, they learn to hear the natural rhythms of spoken language. Rhymes help children hear the phonetic connections between words with similar spellings and sounds. This is one reason that poetry should be an important part of our home libraries.
Have you ever noticed how your little one loves for you to read and re-read those books with rhyming sing-song words? I think I could still nearly quote Good Night Moon from memory after all the years of reading it to my kids! Poetry is also easy to memorize. Think about how many nursery rhymes you still know by heart! When kids commit a poem to memory, they begin to learn that stories have a beginning, middle and an end. They also are able to "read" the poem by themselves – even if they really don't know how to read yet.
A Few Poets to Get You Started
Since we know that poetry is an important part of a child's reading development, what can we do to help increase their interest in poetry? We can start by introducing them to great poets! You can begin with the following:
Robert Louis Stevenson – You probably know him better for his classic works like Kidnapped and Treasure Island; but Stevenson was also a very accomplished poet. A Child's Garden of Verses is a great collection of poems to have in your home!
Shel Silverstein – The beloved author of Where the Sidewalk Ends and A Light in the Attic is a fun poet for children to begin reading.
Langston Hughes – Hughes was one of the earliest pioneers of jazz poetry. Poetry for Young People is a wonderful resource for introducing young people to his amazing work.
Helpful Web Sites and Apps
Another way you can foster a love of poetry in your child is by introducing her to cool websites and apps that promote poetry. Here are a few to check out today:
Poems by Heart from Penguin Classics – With this app kids can learn to recite over two dozen poems by heart! A fun and challenging way to learn poetry. Ages 12+.
Acrostic Poems – This site allows children to create and save their very own acrostic poetry.
ShelSilverstein.com – Kids will love perusing this fun site. It's filled with fun, games, animations, and other cool resources from Shel Silverstein.
 We hope you will join Red Apple Reading in celebrating Poet's Day. After all, we could all use a little more poetry in our lives!