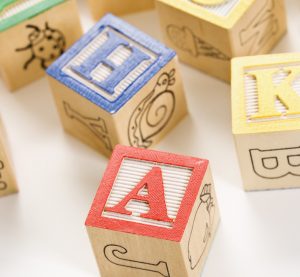 If you have a toddler at home, you may not have thought much about teaching her to read. Most parents of toddlers would be thrilled if their little one would just learn to keep their food on their plate! While most toddlers have several years before they begin to read fluently, there are some activities you can begin now in order to build a strong reading foundation. And trust us, your child will be in much better shape when starting school if you have already taken the time to do these things!
Developing your little one's phonemic awareness is one very important way you can begin to lay the groundwork for reading success. Simply put, phonemic awareness is the ability to recognize and manipulate sounds within words. The following phonemic awareness activities will help your toddler cultivate a strong basis for later reading.
Read Nursery Rhymes – Rhymes help children hear the phonetic connections between words with similar spellings and sounds. When you read nursery rhymes to your toddler, he learns the natural rhythms of spoken language.
Sing Rhyming Songs – Singing fun rhyming songs is another way to help your little one develop an awareness of rhythmic patterns among words. When you're singing their favorite song for the tenth time that day, remember that you really are doing important brain work!
Clap Words – You can begin to introduce the concept of syllables to your toddler by "clapping words". Clapping out the syllables in words helps your little one learn to isolate sounds, which is an important part of developing phonemic awareness.
Read Word Family Books – Reading books to your toddler that focus on a particular "word family" (words ending in a particular sound – "ad", "an", "op", etc.), will help him gain phonemic awareness.  Dr. Seuss' Hop on Pop is an example of a good book for introducing word families.
Go on a Sound Hunt – Help your toddler learn to isolate sounds within words by going on a "sound hunt". For instance, look around the house for objects that have the /d/ sound in them (dog, door).
Talk and Read with Your Toddler! – Speaking abundantly with a young child and reading stories – both fiction and non-fiction – are easy and effective things a parent can do to help a child's budding literacy.
Your toddler is probably still several years from becoming an independent reader, but it's never too early to begin laying a good foundation for reading. In fact, you are probably already doing many of the things necessary for nurturing an emerging reader without even realizing it!
If you would like to know more about the concept of phonemic awareness, check out this video from Red Apple Reading!