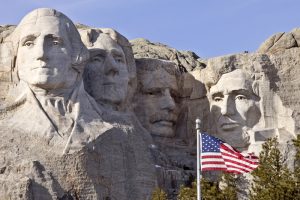 Many of us are enjoying a long weekend since Presidents' Day is this Monday.  While our federal government officially calls this American holiday "Washington's Birthday", it has come to be recognized as a time to pay tribute to both past and present presidents. How is your family spending this holiday? Red Apple Reading has some ideas for celebrating Presidents' Day with your family.
Read – Reading is always a good way to celebrate a special occasion! Take a look at this list we compiled a few years ago: Perfect Reads for Presidents' Day.
Presidential Fun Facts – Check out this video from History.com with fun presidential facts. Who knew Calvin Coolidge had a pygmy hippo?
Dinner Discussion – If your family is like mine, dinner is one of the few times that everyone is together. Take advantage of this time by steering the discussion toward presidential issues. For instance, have everyone complete this statement: "If I were President, I would…"
List the Presidents – Most people know that Washington was our first president and Lincoln was our 16th, but what about the others? Take time this weekend to learn all the presidents in order! Need a little help? Check out this song!
Presidential Word Search – See which family member can complete this presidential word search the fastest!
Patriotic Snack Time – Create this yummy flag fruit dessert from Family Fresh Meals. Be sure to take a picture of your completed creation before the kids devour it. Snacks this delicious don't last long!
Scrambled President – You might as well sneak a little word work into the holiday! Have your children compete to see who can make the most words from the letters in the word, President.
Get Crafty – Get a little crafty this Presidents' Day with this cute presidential creation from Eberhart's Explorers. Your kiddo will enjoy constructing their very own George Washington portrait using minimal crafting materials.
Write a Letter – Children can write their very own letter to the President. Follow the directions on this website.
Perhaps you've never considered how you could celebrate Presidents' Day with the family. By simply planning a few small activities you can make the holiday a special time for the entire family! Happy Presidents' Day from Red Apple Reading!