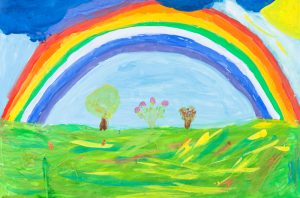 Toddler-hood is a great time to introduce your kiddo to environmental conservancy. If you've been the parent of a toddler for any length of time, you understand just how quickly they are able to catch on to ideas. A simple activity can go a long way in increasing your toddler's awareness about environmental issues. Here's a list of ten simple Earth Day activities you can do with your toddler, courtesy of Red Apple Reading:
Re-purpose a Cardboard Box – Here's an Earth Day activity every toddler is sure to love! Demonstrate the importance of recycling by re-purposing a cardboard box you have around the house. Cut windows and a door in a refrigerator box to make a house, or turn a smaller box into a car. Be sure to take the "well loved" treasure to the recycling bin when your little one is done playing with it.
Take a Nature Walk – Make a point to get out of the house regularly to enjoy a little outdoor exercise with your toddler. Visit a local walking trail or arboretum. A simple stroll in the sunshine is sure to nurture your kiddo's love of nature.
Plant an Alphabet Garden – Your little one can practice their ABC's as they play in an alphabet garden from Mom Inspired Life. This activity is super easy to put together and your kiddo will love "planting" their alphabet flowers in the green play dough.
Clean Up a Park – Take a trip to a nearby park and after a little play time, pick up trash around the area. This will teach your child how to take care of outside areas as well as provide an important lesson on the importance of not littering.
Set up Earth Day Sensory Play – Toddlers love sensory play! This year create a special Earth Day sensory bin for your toddler to explore. Place items such as soil, rocks, animal figures, and tree figures in a plastic bin. Allow your child to play using the items however she wishes.
Have a Snack – Celebrate Earth Day with a special snack. Your tot will love these Dirt Pudding Cups complete with squishy gummy worms wiggling around the top! Visit Oh Nuts for instructions.
Read a Book – When it's time to read your toddler a bedtime story, choose a book that applies to Earth Day. Fortunately, there are several Earth Day themed titles from which to choose. Check out these suggestions from The Jenny Evolution.
Go on a Scavenger Hunt – Create a nature scavenger hunt for your toddler. Cut out pictures of things like leaves, grass, rocks, sticks, etc. and have your child collect the nature items on the list.
Create Chia Pet Pictures – You'll definitely want to create one of these Chia pet picture planters with your kiddo. You'll love having the photo of your little one and they'll love seeing themselves with long grassy hair! Check out this example from Apartment Therapy.
Construct a Bird Feeder – Construct a simple bird feeder with your toddler using the cardboard tube from toilet paper or paper towels. Afterwards, put out a blanket and watch your feathered friends enjoy a snack. Follow these easy instructions from The Resourceful Mama.
When it comes to introducing toddlers to new activities, keep it simple. You don't have to have elaborate Earth Day plans in order to make a meaningful impact on your little one. An ecological lesson that is fun and simple is the perfect introduction to Earth Day. Try one out with your toddler today!