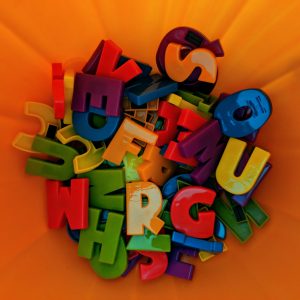 Sunday, September 23rd officially marked the first day of fall. Whether its football, cooler temperatures, or changing leaves, everyone has something they enjoy about this time of year. We also love autumn here at Red Apple Reading, so in the spirit of the season we found ten activities that combine a little ABC practice with a bit of fall fun. We know your little one will enjoy these autumn inspired alphabet projects!
Pumpkin Alphabet Matching Game
This simple matching game is available for free from Life Over C's. Little ones match the upper case pumpkin with its corresponding lower case seed. All this activity requires is a printer (and some lamination if you wish to make it extra sturdy).
Find the Letter on the Pumpkin
The only materials you'll need for this activity are cardstock, a black marker, and a hole puncher. Begin by cutting a pumpkin out of orange card stock. Next, write various letters around the edge of the pumpkin, interspersing several p's throughout. Your kiddo then punches out all the p's. Visit Hands On As We Grow to see how it's done!
Candy Corn Alphabet Mats
Who wouldn't love constructing letters out of candy? 123 Homeschool for Me provides free alphabet templates for this activity, so all you need is a bag of candy corn. Little ones arrange the candy on the letters and maybe even sneak a few pieces in the process!
Alphabet Leaf Activity
Nothing represents the autumn season quite like changing leaves. Incorporate some colorful leaves into your kiddo's learning with this alphabet leaf activity from A Dab of Glue Will Do. Write a letter on each leaf using a permanent marker  and then let your child rake them up. Parents can prompt children to identify letters and their corresponding sounds as they play.
Fun Fall Tree ABC Match
You'll want to get this cute (free!) fall tree printable from I Heart Crafty Things. Preschoolers will enjoy matching the yellow and red round Avery stickers with their corresponding letters on the tree. Visit their site today for an example and detailed instructions.
Fall ABC Books
Alphabet books are great tools for familiarizing little ones with letters and their sounds. Spend some time with your preschooler reading autumn themed ABC books. Fantastic Fun and Learning has compiled a list of Fall ABC titles to get you started.
Fall Kinetic Sand Writing Tray
Young children learn best when their senses are engaged. Sand trays are great tools for this kind of kinesthetic learning. Stir the Wonder has put together an engaging fall themed sand tray using kinetic sand, acorns, and silk leaves. Your kids will love writing their letters in the sand!
Leaf Sticker Tree
If you're looking for an activity for practicing beginning sounds, check this one out from Growing Book by Book. Using the free tree template labeled with different pictures, children match alphabet leaf stickers to the picture with that beginning sound.
ABC Hunt
Halloween is just around the corner and this is the perfect activity to get your little learner excited for the big day. Fill a jack-o-lantern with ABC letters and have your kiddo pull out one letter at a time. After choosing he will mark that letter off of his worksheet using a bingo marker. To view an example and download the free ABC hunt printable, visit Little Miss Glamour Goes to Kindergarten.
Scarecrow Letter Patches
Constructing this fall scarecrow couldn't be easier! All you need is a scarecrow drawn on a large sheet of paper, 26 different colored letter patches, and glue. Kids will glue each letter patch onto their scarecrow while parents prompt conversation about the letter they choose. Thanks to Growing Book by Book for this fun idea!
If you like these activities check out our Pinterest boards, Fall – Our Favorite Season and All ABC's. You'll find more great ideas for nurturing literacy development in your children.