Are you looking for cute Halloween costume ideas for your kiddo? This year consider a book inspired costume. Your child will love bringing his or her favorite character to life! Need some ideas? Check out the following book character themed costumes we've curated from around the web.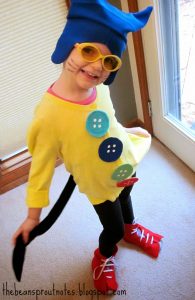 Pete the Cat – If your kiddo is a fan of the Pete the Cat books, they are bound to love this colorful cat costume. A yellow cardigan, some fabric, and sunglasses are the main components of this easy outfit. This extra groovy costume idea comes from The Bean Sprout Notes.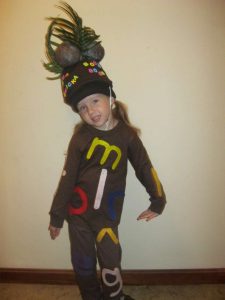 Chicka Chicka Boom Boom – Bring this beloved children's classic to life this Halloween season when you fashion this coconut tree costume for your kiddo. Using a brown jogging suit as your background, attach felt letters to "climb" up the tree. A bicycle helmet, Styrofoam balls, and artificial leaves are used to complete the look. Thanks Costume Yeti for this great idea!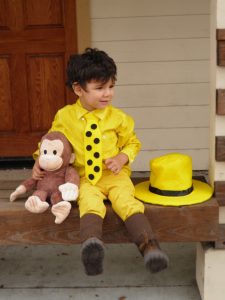 The Man in the Yellow Hat – Bring Curious George's friend to life with this cute man in the yellow hat costume. Pick up a few inexpensive pieces of clothing (think thrift store) along with some felt and dye, and you're ready to put this bright outfit together. Visit A Butterfly's Haven for detailed instructions.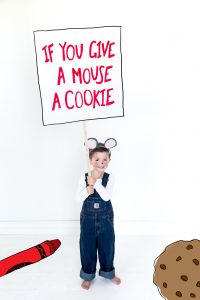 If You Give a Mouse a Cookie – We all know what happens when you give a mouse a cookie; but what happens when you dress your kid up as a mouse? We think she'll get tons of treats! This super simple costume can also have a cookie counterpart. Check out The House that Lars Built for details.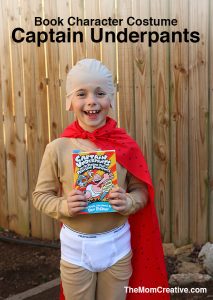 Captain Underpants – Don't worry parents – your kid doesn't have to strip down to his tighty whities to rock this costume. With a white shirt and pants and Rit dye to match your child's skin tone, you can make a trick or treat friendly version of this book character. The Mom Creative did a fantastic job with this one!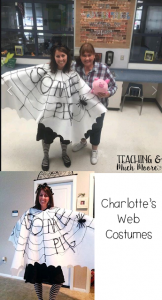 Charlotte's Web – We love this adorable Charlotte's Web costume from Teaching and Much Moore! White felt, pre-purchased spider web and a spider from a party supply store, and black yarn are all that's needed to turn your little one into Charlotte and her web.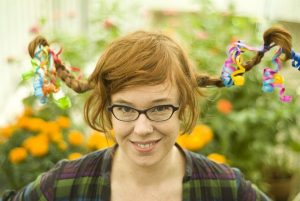 Pippi Longstocking – Think you can't get hair braids to stand up in that crazy Pippi Longstocking manner? Think again! If your little girl has long hair she's a great candidate for these extra cute Pippi pigtails. Find out how to make your kid's hair stand on end at Make.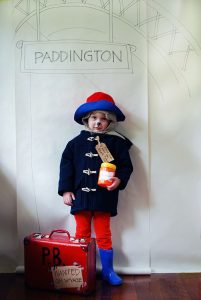 Paddington Bear – We love costumes that can be made from on hand items at home and this one definitely fits the bill. Visit Babyology to see just how easy it is to transform your little one into the very adorable Paddington. We're certain you'll want to look after this cute bear!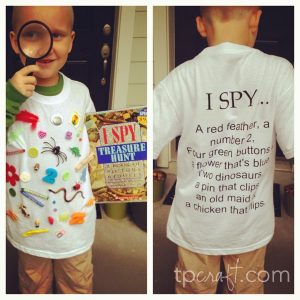 I Spy – I spy a really creative costume! Inspired by the popular I Spy search and find books, TP Craft fashioned a cool costume out of a white t-shirt and random objects around the house. Grab your hot glue and you'll complete this costume in no time.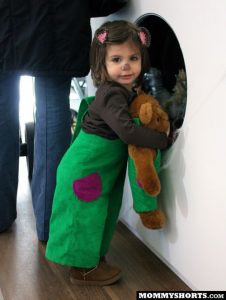 Corduroy Bear – Here's another lovable literary bear that makes for an easy costume. We found this idea at Mommy Shorts. She had someone make the overalls for her little one, but you could also buy yours (it will still be cute, even if they aren't made of corduroy). A little brown nose and bear ears complete this sweet look.
Happy and safe Halloween from Red Apple Reading!