2019 is well underway and now that we've hit February there's a lot going on! As always, we believe the best way to commemorate an occasion is with a good book. Ready, set, read!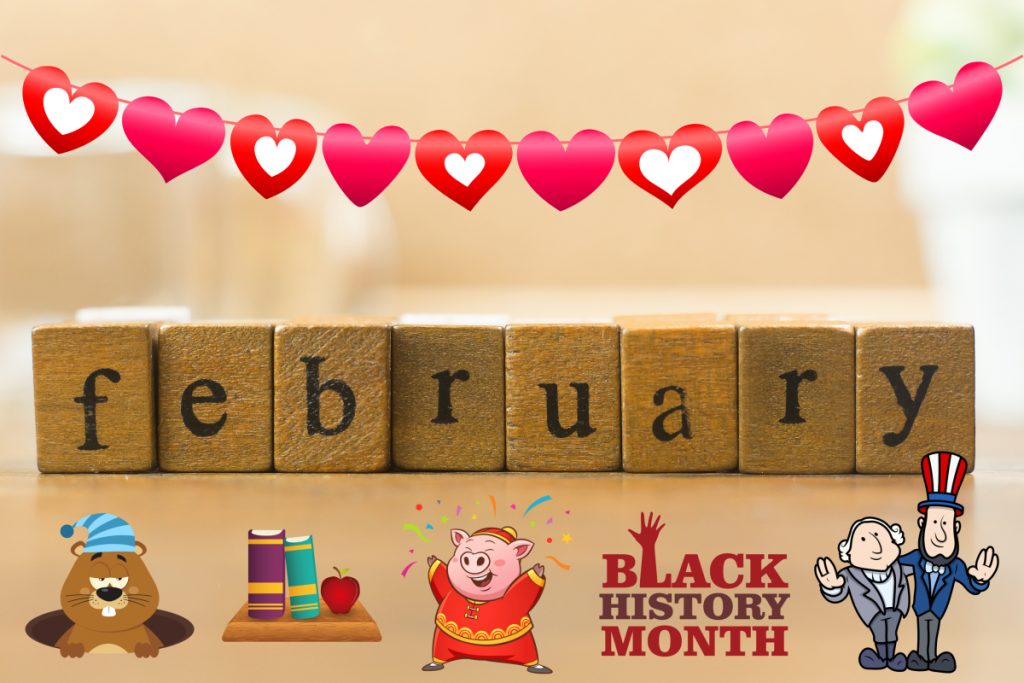 Groundhog Day
Substitute Groundhog (Pat Miller)
Oh no! It's the day before Groundhog Day and Groundhog is sick. What he needs is a substitute! But can any of the other animals fill his shoes? Find out who Groundhog chooses as a stand in. Ages 4-8
Groundhog Gets a Say (Pamela Curtis Swallow)
Groundhog has had enough. Everyone thinks he's a once-a-year act, but there's so much more to this rascally rodent! Find out some interesting ground hog facts in this funny and informative read. Ages 5-8
Gregory's Shadow (Don Freeman)
Here's a sweet story for Groundhog's day from the author and illustrator of Corduroy. Timid Gregory Groundhog feels bolder when his friend, shadow, is near. What will happen if he can't find his buddy before Groundhog Day?  Will they be reunited? Ages 3-5
President's Day
If I Were President (Catherine Stier)
Young elementary aged students will enjoy imagining with the cast of characters in this book what it would be like to be President of the United States. Provides a peak into the duties and responsibilities the President faces on a daily basis. Ages 4-8
Magic Tree House #47: Abe Lincoln at Last (Mary Pope Osborne)
Annie and Jack travel all the way back to 1861 in this installment of the Magic Tree House series. Can they help a nation in crisis? Ages 7-10
Duck for President (A Click Clack Book) (Doreen Cronin)
This light hearted book will give your kids a case of the giggles. If you enjoyed Click, Clack, Moo, you are sure to love this book that has Duck achieving the highest national office. Ages 4-8
Valentine's Day
You're Loveable to Me (Kat Yeh)
A mama reassures her little bunnies that she will always love them. A heart-warming tale of love! Ages 3-7
Valentine's Day Disaster (Geronimo Stilton, No. 23)
When Geronimo opens his empty mailbox on Valentine's Day, he wonders if his entire day will be disastrous! Kids will enjoy Geronimo's valentine adventure. Ages 7-10
Somebody Loves You, Mr. Hatch (Eileen Spinelli)
Mr. Hatch lives by himself and keeps to himself. One day he gets a mysterious package from the postman with a note that says, "Somebody loves you." This sweet book highlights the importance of kindness in a lonely person's life. Ages 3-8
Black History Month
The Youngest Marcher: The Story of Audrey Faye Hendricks, a Young Civil Rights Activist (Cynthia Levinson)
Although Audrey Faye Hendricks was just a little girl, she knew she could do her part to further civil rights for African Americans in the South. Hendricks was one of the many kids to participate in the Children's March in Birmingham, Alabama. She was only 9 years old when she was arrested for taking part in the protest. Ages 5-10
Who Was Frederick Douglass? (April Jones Prince)
Kids will enjoy learning about famous 19th century abolitionist Frederick Douglass. This book details important moments in Douglass' life while he was in slavery and after he escaped to the North and gained his freedom. Ages 8-12
With Books and Bricks: How Booker T. Washington Built a School (Suzanne Slade)
Booker T. Washington is a familiar name in black history. This story recounts an important aspect of Washington's life that is not as well-known as other portions. Children will learn how Washington actually built his own school for students in Tuskegee who were eager to receive an education. Ages 4-8
Library Lover's Month
Thomas Jefferson Builds a Library (Barb Rosenstock)
Thomas Jefferson loved to read. In fact, he collected three major libraries in his lifetime! Children will learn all about Jefferson's passion for books in this very interesting true story which contains several interesting facts and quotes about Jefferson's life. Ages 8-12
Library Mouse (Daniel Kirk)
Sam is a mouse who lives in the library. He sleeps during the day and comes out in the evening to read the books. Sam eventually pens his own stories and becomes rather popular among the library patrons. Find out how this little mouse inspires all kids to be writers. Ages 4-8
That Book Woman (Heather Henson)
Cal and his family live high in the Appalachian Mountains. He just can't understand why his sister enjoys reading the books the pack horse librarian delivers to their house. There must be something special that makes that book woman continue to visit their house in every kind of weather. Ages 4-8
Chinese New Year
Bringing in the New Year (Grace Lin)
Peek in on a Chinese American family as they get ready for the Lunar New Year. There are dumplings to make, decorations to hang, and new clothes to wear. Kids will especially love the fold-out dragon parade page! This colorful picture book is a fun introduction to Chinese New Year. Ages 3-7
Dim Sum for Everyone (Grace Lin)
It's time for a Dim Sum meal! Follow a Chinese American family as they enjoy their favorite treats. A nice board book for little ones. Ages 3-7
Celebrate Chinese New Year (Carolyn Otto)
If you're looking for a book to explain Chinese New Year customs and traditions, check out this one. This edition is one in the National Geographic series, Holidays Around the World. The informative text and colorful pictures will give kids a taste of this popular holiday. Ages 6-9
February is a short month, but there is plenty of time to read!
Take time this month to enjoy several books with your little one.