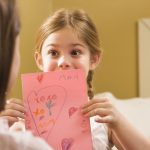 Valentine's Day is a holiday that just begs you to break out the glue, construction paper, and scissors and get crafty. Here at Red Apple Reading we think the only thing better is mixing in a little literacy with the craft! After all, you might as well sneak a bit of learning into the fun. This year why not try out one of these literacy friendly Valentine crafts with your kiddo?
Beaded Name Hearts
This Valentine craft from Fun-A-Day encourages literacy as well as fine motor skills. Kids arrange pony beads into fun patterns and thread their name into this cute creation. All parents need to provide are multi-colored beads, letter beads, and pipe cleaners.
Conversation Heart Letters
What's Valentine's Day without those sweet conversation hearts? Small children will get a kick out of practicing their letters with this classic candy. Kids place the candy hearts onto the letters to create a yummy alphabet. Visit TotSchooling to download their free conversation heart Valentine's printables today!
Write a Valentine Letter
Valentine's Day is the perfect time to pen a letter to someone you love. Encourage your child to write a letter to a special person in his life listing all the things they love about him or her. Afterwards, supply your kiddo with markers, stickers, glitter, etc. to decorate their note.
Jar of Hearts
Your child will create her very own jar of hearts with this special Valentine's Day writing activity.  Whether she chooses to write down the things she appreciates or people she loves, she will end feeling grateful for all the good stored up in her jar. This free download is available from Inspired Elementary.
The Sweetest Thing Writing Activity
This Valentine's Day inspired writing activity comes from The Applicious Teacher. Children write about their sweet acts then display them on a homemade heart or chocolate kiss. Visit the website for instructions on how to assemble this craft and to purchase additional printables to expand the writing project.
Valentine's Card Sentence Scramble
Who doesn't like to receive cards on Valentine's Day? Your child can create this adorable folding caterpillar card for someone special in his life. Have him unscramble the words to discover the message, then place each word on a different section of the caterpillar. When the card is unfolded this message appears: "Valentine, I'm buggy for you". Visit Scholastic for instructions.
Valentine Book Marks
Let your little one create a Valentine-themed book mark. Simply provide cardstock, markers, stickers, and ribbon. After she completes her creation, present her with a new Valentine-themed book to go with the bookmark.
K is for Kiss
If your child is currently learning her letters, she will enjoy making this "K is for Kiss" craft. The end result (a googly eyed chocolate kiss) is adorable! Visit Our Crafts-N-Things to view this cute project.
The Day it Rained Hearts Craft
This craft is based on the book, The Day it Rained Hearts by Felicia Bond. Your kiddo will love the finished creation with red felt hearts falling from tissue paper clouds and blue yarn rain woven through gray cardstock. Of course, you'll also want to read the book that inspired this craft! Check out the instructions at I Heart Crafty Things.
Love Monster Paper Bag Puppet
Here's another goody from I Heart Crafty Things! If your child is familiar with the book Love Monster by Rachel Bright, he's sure to enjoy this fun art project. This simple craft only requires a paper bag, red construction paper, glue, and a little cardstock. When he's finished he'll have his very own Love Monster puppet! Read Love Monster today!
Get crafty this Valentine's Day with an art project that combines the two great L's – Literacy and Love. When you make one of these crafts with your kids, we have a feeling that you will be speaking their love language!
Happy Valentine's Day from Red Apple Reading.