If you are looking for a fresh new way to reinforce math skills with your little one, consider picking up a book that works math into its story. While your child may balk at sitting down at the table to work math problems, he may enjoy hearing a story that engages him and encourages him to think critically. In fact, he may have so much fun that he forgets he is even engaging this part of his brain! Red Apple Reading thinks you and your kiddo are going to love these books that teach math skills!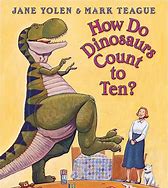 How Do Dinosaurs Count to Ten? (Jane Yolen)
The hilarious illustrations and fun rhyming text in this installment of Yolen's dinosaur books, will keep your little one coming back for more readings of this book. Young children will love counting to ten with these dinosaurs! Ages 3-5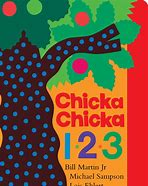 Chicka Chicka 1,2,3 (Bill Martin Jr.)
If your kiddo enjoyed Chicka Chicka Boom Boom, they are sure to like this companion book! This time numbers are climbing an apple tree. Is there a number that can save the day when bees threaten? Find out in this fun counting book. Ages 1-4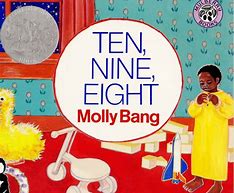 10, 9, 8 (Molly Bang)
Young children can practice counting backwards from ten with this lovely Caldecott Honor book. Follow a little girl as she and her dad prepare for bed. You'll want to add this one to your bedtime story rotation! Ages 2-4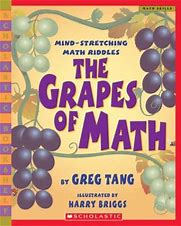 The Grapes of Math (Greg Tang)
Kids will discover innovative ways to tackle math problems as they read this clever book. These creative problem solving tricks are presented with rhyming text and helpful illustrations, making the learning that much more enjoyable! Ages 7-10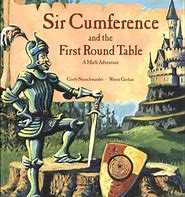 Sir Cumference and the First Round Table (Cindy Neuschwander)
Looking for an appealing adventure in geometry? Look no further! Sir Cumference and the other punny cast of characters (Lady Di of Ameter, Geo of Metry, and Radius) must design the perfect table for important peace talks. Find out how they accomplish this crucial task! Ages 8-12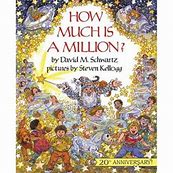 How Much is a Million? (David M. Schwartz)
How much is a million? Well, that is a challenging concept for most kids to grasp! The author helps children better comprehend this huge number in this beautifully illustrated Reading Rainbow book. Ages 4-8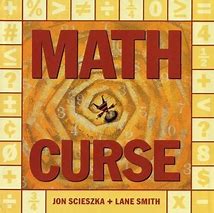 Math Curse (Jon Scieszka)
After her teacher tells the class that nearly everything can be thought of in terms of a math problem, one little girl is convinced she's cursed! Everything in her life has suddenly become a math problem! How will she break the curse? This funny tale shows kids that you really do use math in daily life. Ages 6-10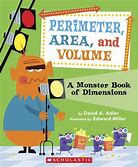 Perimeter, Area, and Volume : A Monster Book of Dimensions (David A. Adler)
Kids will have a monster sized good time learning about the three dimensions in this book. The calculation of perimeter, area, and volume are demonstrated in this story about monsters on a movie set. Ages 7-10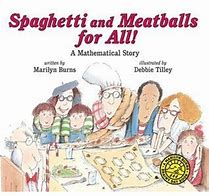 Spaghetti and Meatballs for All! (Marilyn Burns)
Mr. and Mrs. Comfort are planning a family reunion and 32 people are attending. How can the tables be arranged to best seat everyone? Children learn about area and perimeter in this fun Brainy Day book. Ages 5-10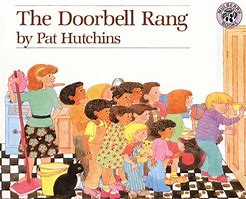 The Doorbell Rang (Pat Hutchins)
When mom bakes cookies for Victoria and Sam, she tells them to divide them between themselves. The doorbell rings bringing more friends to share with. As the bell continues to ring the children must continue dividing the cookies in order to split the delicious snack. A nice introduction to division. Ages 4-8
If you think reading has nothing to do with math, think again! There are tons of books out there that actively and subtly reinforce math skills. Introduce your child to some of these books today!