Homeschooling has been growing in popularity for the last few years, but the COVID-19 pandemic gave an unprecedented impetus to the trend. More and more parents are taking their kids out of traditional schools and educating them at home. If you're one of them, you'll want to take a look at these 10 tips to kick-start the first day the right way.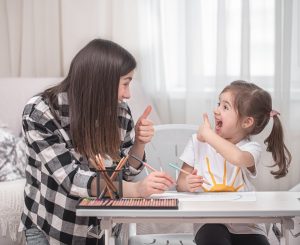 According to a nationally representative parent survey by the EdWeek Research Center, 9% of parents whose children were in regular school last year said they would homeschool their children for at least part of the new academic year. The possibility of their children being exposed to the coronavirus in classrooms, unstable academic schedules, and too much screen time prompted their decision.
Switching from regular to homeschooling is a big adjustment for all concerned. It's important to get the process off to a good start—one that gets everyone excited for the year (or term, or semester) ahead. The following tips will help you do just that.
Decorate The Homeschool Room
While having a dedicated homeschool room is not essential, it's highly recommended. A dedicated space makes it easier to keep all your school supplies in one place, and ensures there are fewer distractions. What's more, when your kids are in that room or area, they know it's time to focus on learning.
Your kids won't enjoy spending all day in a dull environment, and neither will you. Liven up the room with educational and motivational posters, pictures of nature, animals, ancient landmarks, and even planets and spiral galaxies.
You don't have to limit yourself to a chair and desk; you can create a reading nook where they can practice their reading skills or simply spend time reading a favorite book. This will motivate them to read more, as they'll have an enticing space to sit that's all theirs.
Make the room extra-special by decorating it with banners or posters celebrating the first day of homeschool.
Enjoy A First Day Breakfast
A special First Day at Homeschool breakfast is a great way to start the academic year. Make it easier for yourself by preparing your kids' favorite breakfast, putting together a feast of fresh fruit, yogurt, muesli, and other goodies, or finding fantastic recipe ideas online that can inspire you to make tasty treats.
Complete A First Day Survey
A first day survey is an activity that can provide you with insights into your children's interests, likes, and dislikes. These interests will most likely change over time, so consider doing surveys on the first day of every term.
Ask fun questions like "Who is your favorite cartoon character?," life skill-related questions like "What's the best way to wash your hands with soap and water?," and education-related questions like "What are you most excited to learn about this term/year?" Those surveys might inspire creative homeschool class ideas, and can offer an interesting record of your kids' development and growth over time.
Take First Day Photos
Photo day is an annual feature at many traditional schools, and whether we love or hate them, school photos are part of modern human culture around the world. Add to the specialness of the first day of homeschooling by taking photos of your children. Consider getting them to make decorations or posters that can help decorate the photos and make them more lively.
Decorate Workbooks, Binders, and Folders
One of the secrets of educating children is inspiring them to take ownership of their learning. There are all sorts of ways to do this, some of which are more creative than others. Encourage your kids to take ownership of their education right from the first day of homeschool—and do it in a fun way by getting them to decorate their workbooks, binders, and folders.
You can also create progress charts together so they can track how their reading skills improve, the math milestones they reach, and other achievements.
Organize A School Supply Treasure Hunt
Hold a school supply or home goods treasure hunt for an activity that gets your kids moving and offers them a chance to practice their reading skills. Do this by creating clues for various items in the schoolroom or around the house.
Let your children start by solving the first clue in the homeschool room. The answer will lead them to an item where they'll find the second clue, and so on. Hide "treasure" such as chocolate coins in gold foil at the last point on the list.
Eat A Special First Day Lunch
Why stop at a special breakfast on the first day of homeschool? Treat your kids to a special lunch too. Not only will the lunch add to the excitement of the day, it's also an opportunity to talk about healthy eating habits and how some foods can boost your children's brain power.
Spend Time On Arts And Crafts
Arts and crafts engage your kids' creativity, and those activities can help them to further develop their fine motor skills. They're also an easy, entertaining start to the academic year.
If your children know from the beginning that the time spent in the schoolroom isn't all about solving math problems, they'll be that much more excited to be there. If you don't have the time or the supplies needed for an arts and crafts session, you can play a fun educational game with them instead.
Go On An Outing
Outings or field trips aren't the first things that come to mind when you think "first day of school," but that doesn't mean you can't or shouldn't consider it when homeschooling. It would be almost impossible for a regular school to organize a field trip for the first day of the academic year.
However, when it's just you and your kids, it's as easy as whipping up a packed lunch, getting into the car, and heading off to a local place of interest that ties in with an element of their curriculum.
Give School-Related Gifts
Walking into the homeschool room and finding a gift at their places would be an additional thrill for your children on their first day. Choose gifts relating to schooling or learning that are useful too. Colorful stationery holders, activity books, a tablet or even a portable printer are all great options that serve multiple purposes.
A Good Start
The above tips are only a few suggestions for ways that you can organize the first day of homeschooling in a way that sets the tone for the year ahead. Get that right, and your children will love every opportunity they have where they get to learn something new.
Alisa Taylor, editor-at-large and content monster, shares awesome vibes and magic words wherever she drops her ink. Her strongest areas are business, graphic design and education, but she's always looking to refresh knowledge and widen expertise. She loves taking her dogs for long walks in the woods, and after that, she spends her breaks on gaming and reading.